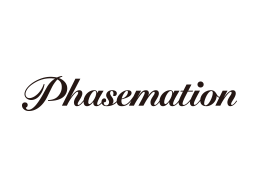 協同電子エンジニアリング株式会社
〒223-0058 神奈川県横浜市港北区新吉田東8-40-17
TEL:045-710-0975 FAX:045-710-0976

8-40-17 Shin-Yoshidahigashi,Kohoku-ku,Yokohama-shi,Kanagawa 223-0058, Japan
TEL:+81-45-710-0975 FAX:+81-45-710-0976

フェーズメーション(Phasemation)は、位相(Phase:フェーズ)と情報(Information:インフォメーション)を合わせた造語です。
L・Rの2チャンネルで音楽演奏のステージ感を表現するのがステレオ再生の原点ですが、それには、チャンネル間の位相特性が重要な要素であり、それがブランド名に表現されております。
フェーズメーションの求める音質は、「音楽演奏のステージ感」として、聴者の前面に聴感上のステージが再現され、しかも、奏者の情念までもが再現されることです。
それは、ステージの広がり(楽器の位置、奥行き、高さ)、そして、音の鮮度のことを言います。
「これが実現された時が真のステレオ再生である」との信念に基づいております。
生演奏の「らしさ」を再現するのは、創り手の「マインド」による以外にあり得ないと信じています。
高度に進化した技術でも、この事なしに音楽再生はあり得ません。
私たちは、生演奏の「らしさ」再現に限りなく近づけるべく、機器の作りこみに日々邁進しています。
フェーズメーションは、真摯なオーディオファンと共に、如何に生演奏の「らしさ」を再生するかを追い求め、共に満足し、共に喜びを感じながら、趣味のオーディオを健全に発展させたいと願っております。

"Phasemation" is a word created by combining "Phase" and "Information".
The origin of stereo sound reproduction is to reproduce live music stage by left and right two channels sound. To attain that goal, the phase characteristics between two channels is very important, and that is why we created the brand "Phasemation".
The sound that we strive after is reproduction of live music stage in front of the listener as if musicians are playing there, and reproduction of players' pathos and emotions. It requires spatial sound expansion of the stage (location, depth and height of musical instruments), and the freshness of the sound. We believe that realization of such musical reproduction is the goal for the sound created by stereo equipment.
We also believe that reproduction of live-like music depends on creator's sensibility. Even with highly advanced technology, excellent music reproduction is not possible without such creator's sensibility. We are dedicated to pursue perfect products which could produce lifelike sound.
Phasemation strive after the reproduction of lifelike music communicating with our enthusiastic customers. We wish to grow audiophile market together with customers, and wish to share satisfaction and joy of stereo sound with our customers in the world.